On Demand Video Library
Daily Shine QiGong Class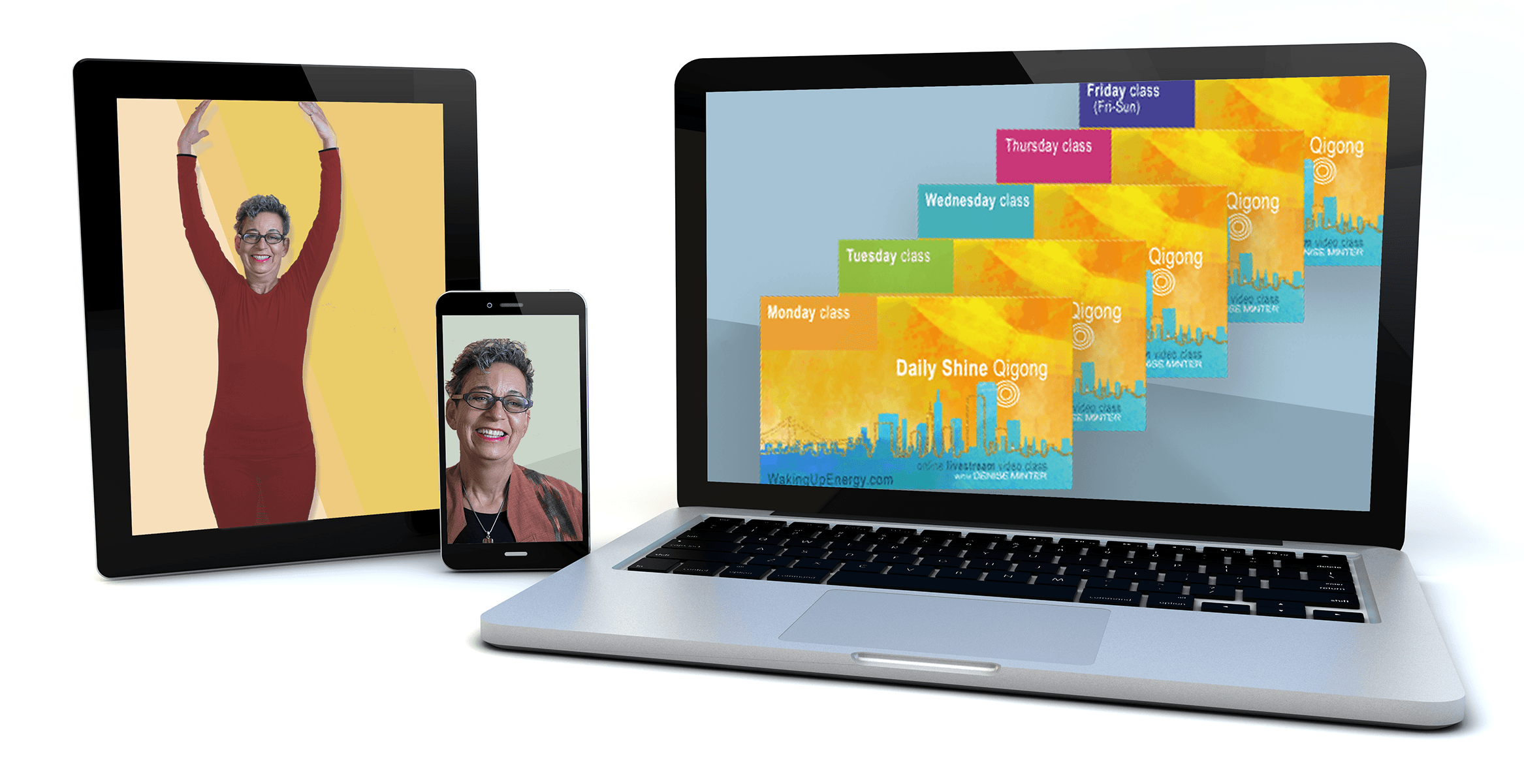 Did you miss the live class today? Relax...We have weeks of classes recorded for you. Click on any DAILY SHINE class and get started :)
IF you do NOT see the Video Library below, you need to Log in First. Click on Log in/sign up button for access to the library.
When will a class be available in the library? We appreciate your patience as we make our best effort to have the day's class recording updated within 24 hours. We sometimes get it done much sooner. Please access a class in the Video Library that is already posted for you to use, while a pending class is being posted.
Step-by-step instructions to Access the QiGong Video Library: Click Here
Meditation: "Setting the Qi Field"
15 Minute class
Meditation: "I Am Loving Awareness"
20 minute class
Brain & Body Meditation
Daily Shine Qigong Class
33 MINUTE CLASS
Use this class to begin your Qigong practice. Visualize yourself as part of Nature, as part of the Universe, located in the middle between Heaven and Earth. This 15:00 meditation allows you to make friends with your body and deeply relax.
Using creative visualization of the mind, we gather up infinite energy from Mother Earth and Father Sky, and picture ourselves in-between, with our feet touching Earth, and our heads touching the Big Blue Sky above us.
You may practice this meditation seated, standing, or lying down. With whatever position you choose, please relax as deeply as possible while keeping your mind alert to follow the Qi.
Denise Minter leads a meditation to makes friends with your Body & Mind just by relaxing and sending a good message to your Brain with this 20-minute Meditation. May be done seated, standing, or lying down.
33:00 Daily Shine Qigong Class
Here's the entire one-hour Daily Shine Qigong class, trimmed down to 33-minutes. The Opening Meditation is not included in this class. Practices include:
Spinal Bone Marrow Rotation

Hip Rotations

Crane's Neck

Bending Spine

Chen Chi & Lachi
Shaking QiGong - 3 Part Movement
15 MINUTE CLASS
Do this practice everyday for good health. Just follow along and shake your body to the music.
Three parts to Shaking QiGong:
Shaking

Releasing

Nourishing
12-Point Meridian Self-Massage + Spine Opener
26 minute Class
2019 Updated Practice with Denise Minter. Stimulate your meridian points from the top of the head, awakening the physical body. An easy and effective Qigong practice of 2-minutes per point to relieve headache, stimulate digestion, relieve brain fog, warm the body, good for jet lag, head to toe relaxation.
If you have any concerns about any exercise or body work, please contact your medical practitioner before proceeding with these gentle QiGong forms. QiGong will meet you where you are. Take care and enjoy the practices.
2019 Sound Healing & Self-Healing for the 5 Organs - One-Hour Video Practices